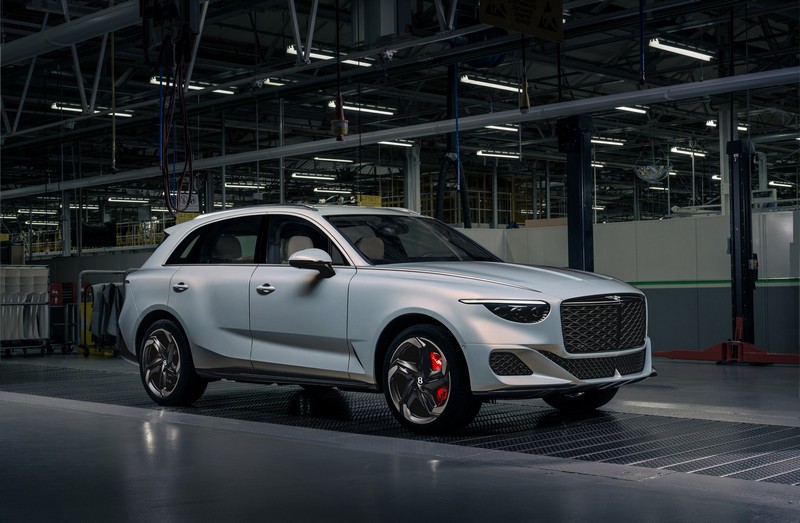 The next generation of the Bentley Bentayga is speculated to look similar to the most powerful model in Bentley's history; The Bentley Mulliner Batur. 
A digital artist, Theo Throttle, who in no way is connected to Bentley, took the time to design the next-gen Bentley from the Batur model. Bentley does not endorse the envisioning made by the artist, but they were made to give us a clue of what to expect in the future.

The next-gen Bentley is expected to be released for sale in 2025. This is if Bentley retains the 5-year release cycle of its SUVs. Before the production of the next-gen models begins, the release of an Electric vehicle is expected close to the year 2025.
Features
Thanks to the Mulliner Batur, we have the features to expect from the next-gen Bentayga. Chassis advancement, which includes four-wheel steering, electric active anti-roll control, speed-tuned air suspension, torque vectoring, and electronically limited speed differential, will continue.
This model's wheelbase will be extended by about 7 inches and come with all-wheel steering. This steering will turn the front wheels in the opposing direction as the rear at low speed. This is to reduce Bentayga's turning circle.
Some features not previously seen on any Bentley would be present in this model. The available Airline Seat Specification has sensors that automatically initiate seat heating and cooling. This way, passengers and the cabin will be kept at the desired temperature.
Ambient lighting that is viewable through perforations in the door trim can be further specified. Thin strips of metals can be decorated with wood veneers. Power-closing doors are also present for the first time on a Bentley.
The thing is, whatever specification you want, Bentley can make it.
The Exterior
The next-gen Bentley is expected to carry the Batur's face. A set of single LES lights should replace the signature dual-round setup that the Bentayga has become accustomed to. Larger grilles and smaller bumper intakes would be the order of the day.
The window line with chrome of the Batur that forms a C-pillar will not be changed. However, the C-pillar formed will be a simpler one.
At the rear, the LED taillights have been adjusted to suit the Bentayga. A larger blacked-out bumper area resembling a diffuser will light up the tail.
There are no real thoughts about whether Bentley would retain the dual exhaust since a combination engine underneath the bonnet might not be removed. Theo's model, though, is a more conventional combustion model.
The Interior
The interior of the next gen is expected to be meticulously trimmed in leather and decorative aluminum. Wood and Carbon fiber will also be used on the inside.
The next-gen Bentayga, like many luxury automobiles, will offer customizations. Customers have multiple packages to choose from. They can decide to have a four-seat layout or even a seven-seat layout. Contrast stitching and piping or a two-tone leather can be specified by customers also. Passengers will have a lot of space and enough room for their legs and heads. Passengers can recline and adjust the seats for maximum comfort on seat pressure data.
A next-generation infotainment system with a 10.9-inch display screen with edge-to-edge graphics will seamlessly integrate into the handcrafted Bentley 'wing' dashboard design. There will be an all-new digital display with super high-resolution and dynamic graphics that can be customized to the driver's preference.
The most recent hardware and software bring revolutionary navigation with satellite maps, online search, and other features. The Bentayga made wireless Apple car play and android auto a standard, in addition to the existing wired system. Rear seat passengers are in luck because a touchscreen will be put in place for their usage.
Engine and Performance
It is a next-gen Bentayga, so nothing short of a great-performing engine is expected.
The Batur is powered by Bentley's idol 6.0-liter twin-turbo W12 engine that delivers 1000 Nm and a power of over 540kW. Bentley has made it clear that the reign of the W12 6.0 engine will end soon. The speculation we got from that announcement is the basis of our expectations. It is believable that the next-gen model will carry an electrified powertrain. A plug-in hybrid Bentayga already exists with about 50km of maximum electric driving range. This is not what we expect for the next-gen models, but a fully electric motor.
It will cover bumps so that there is no wind noise. Its air suspension gives soft rides also.
The expectation was that it would take less than 4 seconds for the next-gen Bentayga to climb from zero to 60 mph.
Pricing
The Mulliner Batur, which we expect in mid-2023, is going for about $2.6 million. If this is true, the next-gen Bentayga would be sold at a costlier price.
Pros and Cons
Pros
– It uses electricity, which means greater power, speed, and less pollution.
– It is very comfortable for every passenger.
– It has great technological advancement.
– It is the quietest Bentayga ever produced.
Cons
The Bentayga doesn't have many faults. And we cannot be sure of what problems to expect for a model we are only speculating about.
Conclusion 
Bentley truly is pushing its Bentayga Edition, and this is impressive. Bentayga will be ten years old in the year 2025, and Bentley will not only launch its first Electric Vehicle then, but they are making plans that all their vehicles will be 100% electric by 2030. Bespoke design choices with digital manufacturing concepts will be ordered in the coming years. By 2030 also, there would be battery-electric models.
Do not only anticipate the next-gen models but also plan to get one of them when released. Unique craftsmanship, higher flexibility, customer interaction, new ways for customer personalization, and employee experience enhanced by digital technology are all the features you will get from the next-gen Bentley Bentayga.
Photos