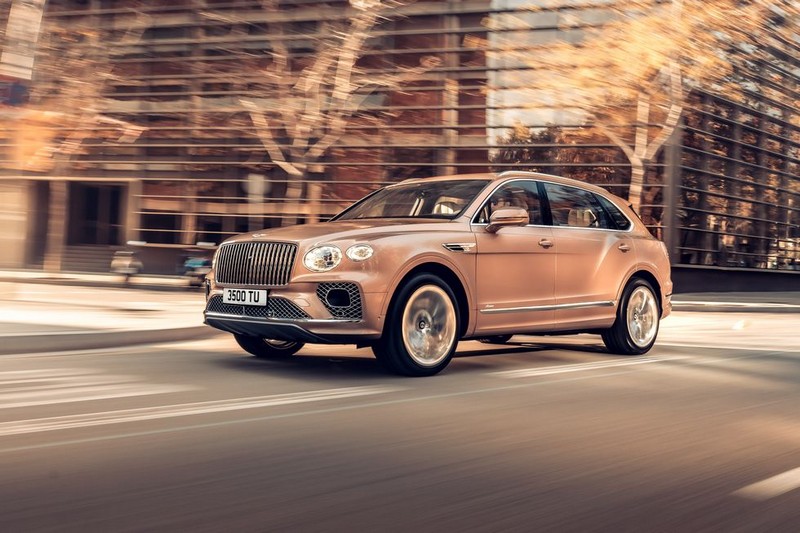 Bentley Bentayga 2023 is an elite luxury car, a top-notch SUV with various features that give it a high-performance rating among other SUV(s).
The 2023 Bentley Bentayga is built with some remarkable features to give premium comfort to drivers both on-roads and off-roads. 
So, in this article, you will find the full guide to help you explore the Bentley Bentayga 2023 model. 
Read on!
About Bentley Bentayga 2023
The Bentley Bentayga 2023 model is designed to seat a family for more practical daily drivers both on-roads and off-roads. The Bentley Bentayga offers a wide range of luxury experiences and numerous technological features throughout its cabin. This driving experience is similar to what you will get in the Conti and the flying spur Sudan because of their similar interior and exterior features. The Bentley Bentayga comes with a mighty twin-turbo W-12 or a twin-turbo V-8 engine. Also, when gas prices are high, the optional plug-in hybrid powertrain is handy for you.
Performance and Economy
The Bentley Bentayga 2023 model comes with two different engines, the twin-turbo W-12 and the twin-turbo V-8 engine, which comes with a standard all-wheel-drive and uses an eight-speed automatic transmission. The twin-turbo W-12 engine is silky smooth and powerful, and produces 600 horsepower and 664 lb-ft of engine power, which can go from 0 to 60 mph in 4.0 seconds and has a top speed of 187 mph. The W-12model speeds up with the ante of626hp. The w-12 is much more efficient than the v-8 for passing maneuvers. The twin-turbo V-8 engine has an engine that produces 542 horsepower and 568 lb-ft of engine power which can go from 0 to 60 mph in just 3.8 seconds. 
The Bentley Benteyga 2023 model has an infotainment screen of 10.9-inch, which works well with Apple Car Play and Android Auto integration. The front seat headrest has two 10.2-inch entertainment systems.
Exterior Design
The Bentley Bentega 2023 model is an eye-catching SUV with an elegant and sleek exterior design. It comes in different colors: silver, white, black and red.
Interior Design
Bentley Bentayga 2023 model offers more legroom and amenities, which will be suitable for owners who like to be chauffeured. The seats can be configured by owners to either seating four or select the three-across second-row bench and a pop-up two-seat third row to seat seven. Unlike the Rolls-Royce Cullinan, the key rival to the Bentley Bentayga 2023, the rear seat doesn't feel lavish. The Bentley Bentayga 2023 model interior has a luxury branding model consisting of rich-smelling leathers, glitzy metals, and original wood trim. It also has a biometric lock and fingerprint reader, adjustable ambient interior lighting, dash clocks, a bottle cooler, and many exclusive features.

Comfortability
The Bentayga 2023 model provides comfortability from its supremely designed front seats to its near vault-like silence at high speeds. The seats are supportive and supply maximum comfort even for long distance. The Bentley Bentayga 2023 model hardly allows road or wind noise into its cabin but at times compromises these features on surfaces that are not perfect

Connectivity and infotainment
The Bentley Bentayga 2023 model has some cool infotainment features, and they are listed below:
10.9-inch touchscreen
10.2-inch displays mounted to the front-seat headrests.
Smartphone compatibility
Navigation is all baked in
A 12-speaker stereo
Safety 
The Bentley Bentayga 2023 model offers a full complement of safety and driver assistance features, which come at an extra cost and are available on a standard level and at no additional cost for lesser luxury SUVs like the BMW. These safety features include a pedestrian detection device and a conventional automated emergency braking system. It also has adaptive cruise control, a night-vision system, and a lane-keeping assistance system.
Storage
The Bentley Benteyga 2023 model has adequate cargo space and folding split rear seats, giving room for easy bicycle storage. The storage is not quite in abundance, but it keeps the vehicle secure and practical.
It also has wide, relatively-light doors and gives room to get children's safety seats in and out of the car.
Pros
Properly made cabin
High standard with unbeatable prestige
Wide range of available powertrains
Rapid acceleration and a powerful engine
Cons
Quite expensive
Offers a few standard driver's assists feature.
Not the finest Bentley
Fuel Economy
According to EPA, the Bentley Bentayga V-8 engine model has a 14 mpg city, 23 mpg highway, and a combined 17 mpg, which is not bad for a large SUV. The manufacturers claimed that the Bentley Bentayga has a speed of 190 mph, making it the fastest SUV in the world. It is also said to produce a result of 23-mpg on a fuel economy highway route of 75-mph. While, for the W-12, the fuel economy is bad at 12 mpg for the city and 14 for highway with a combined 14 mpg.
Price
The Bentley Bentayga 2023 price starts at $167,000 for the hybrid and increases to $191,000 for the V8. But, depending on your taste for optional features, the price could skyrocket. Below are the lists;
Naim stereo $8970
Touring specs $8640
Beluga paint $6275
Five-seat configuration $5780
2inch wheels $3895
Contrast stitching and seat piping $3645
Piano black interior trim $2940
S color specs $2735
Rear privacy glass $1305
LED welcome lamps $1120
Sports pedal $635
Deep pile floormats $615
Mood lighting $515
Heated steering wheel $270
Warranty and Maintenance Coverage
The Bentley Bentayga 2023 has a three-year unlimited miles standard warranty package and a free first maintenance package. It has complimentary maintenance that covers 10,000 miles for one year.

Conclusion
As we have explored the Bentley Bentayga 2023 model to dissect the features and highlight important specifications in terms of the interior and exterior design, safety, fuel economy, price, engine performance, etc., and provide you with the necessary information about this SUV.
You can see why the Bentley Bentayga is a favorite among elites and why you should consider getting one.
This Bentley Bentayga full guide has provided balanced knowledge to help you make the right choice. So, what will you do?
Photo Gallery